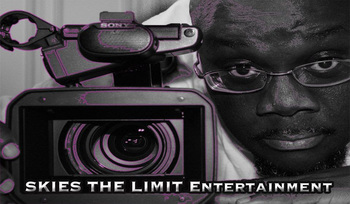 Whether you're looking for a videographer for a personal event or a DJ to keep the party live, SKIES THE LIMIT Entertainment has you covered! Experienced covering small or large-scale events, hosting performances and open mics, live VJ-ing and DJ-ing, producing music videos, and more, SKIES THE LIMIT is always open to new projects, especially in partnership with organizations focused on building community. Samples of past work is below.
---
Videography
SKIES THE LIMIT has produced original videos and provided videography and editing support for a variety of functions including open mics, poetry slams, private parties, conference events, sporting events, and large-scale performances.
​SAMPLES OF VIDEO WORK

​​To the left, c

ommercial produced by

SKIES THE LIMIT

for realtor Robert Ransome.
SKIES THE LIMIT

has been fortunate to work with teams of videographers for many large-scale events that require a team of videographers such as the 2012 National Poetry Slam, the 2012-2013 Lyric Ave season, 2016 Brave New Voices International Youth Poetry Slam, and various sporting events. Here are samples of videos produced with others:

To the left, Women's Cypher from 2012-2013 Season of Lyric Ave.
---
MUSIC VIDEO PRODUCTION
SKIES THE LIMIT is available to create original music videos. Check out these two made for DC artist E.L.P. J.
---
DJ & VJ Services
DJ Double A 1 K puts it all in the mix: hip hop, dance, poetry, art, and more! Versatile to different types of music, his video mixes "My Hip Hop Perspective" are crafted to enlighten and to get you in the mood to dance. Visit
SKIES THE LIMIT's Facebook page
to get the latest music mixes! DJ Double A 1 K is available to DJ or VJ at events.
---
Hip Hop for President
In an original film project led by Bernard Hankins of Enigma 4:3 Productions and Anthony Amos of SKIES THE LIMIT, Hip Hop for President offered a video series asking "What would it look like if a rapper ran for President of the United States?"

Supported by a volunteer cast and crew, a few days of filming, and several weeks of editing, the initial trailer was released in anticipation of the 2012 presidential election. View some of the videos below:
---
Verbs & Vibes Open Mic
In September 2010,

SKIES THE LIMIT

began providing a platform for artists of all kinds to be heard by sponsoring Verbs & Vibes Open Mic (originally named Just Lyricz) twice a month in Charlottesville, Virginia. The event, which continued until November 2013, drew people like Patrick found a safe place to share the story of losing his arm in the military. It attracted people like Shanna whose original songs got people to think and laugh and like Bernard whose wordplay always gives the audience a new way to look at things. It even sparked a

spontaneous jam session featuring a didgeridoo

, musicians on piano and cello, beats from a DJ, and freestyle rap. The event offered a safe space for people to creatively express themselves and feel affirmed and embraced for who they really are.
The core beliefs behind Verbs & Vibes:
Artistic expression in front of an affirming audience is healing for both the performer and the audience members. It allows people to "get free."
Authentic sharing, listening, and affirmation builds community across lines of difference
Creating safe space for authentic sharing, listening, and affirmation through art is sacred.
Verbs and Vibes offers a unique experience in Charlottesville. It was one of the few events in the city that regularly attracted people from a variety of racial, socioeconomic, sexual orientation and other backgrounds. It offered a space where people could freely speak about experiences that are often silenced like overcoming drug use, bulimia, and low self esteem. Additionally, it provided an opportunity for people in Charlottesville to hear regionally and nationally known artists such as poets John "Survivor" Blake and George Yamazawa.
The Verbs and Vibes experience is one that was invited into different communities. Organizations that hired SKIES THE LIMIT to host the open mic at their location include the University of Virginia and the University of Richmond.
​