About SKIES THE LIMIT
Founded in 1999, SKIES THE LIMIT Entertainment is a company that uses music, art and media to entertain, educate, and inspire people and communities to reach their highest potential. Central to the work of SKIES THE LIMIT is the belief that art plays an important role in bringing people together, giving people voice, informing people, and providing light in the world.

Services provided by the company include: DJ services by DJ Double A1k who specializes in old school hip hop, conscious hip hop, R&B, neo-soul and gospel music; videography; video editing; voice-over work; sound support & reinforcement; hosting of events; workshops, and events.

SKIES THE LIMIT videography work has included event videos, public service announcements, memorial DVDs to commemorate lost loved ones, music videos, music video shows, and African-American history video spotlights.

Additionally, through its connections to poets, hip hop artists, musicians, and singers, SKIES THE LIMIT can assist in securing artists for events and bringing open mic and performance experiences to your community.

SKIES THE LIMIT is available for events of all kinds including weddings, conferences, church functions, corporate functions, youth activities, night club events, fairs, indoor or outdoor parties, and special events.

​
About Anthony K. Amos, SKIES THE LIMIT Founder & Director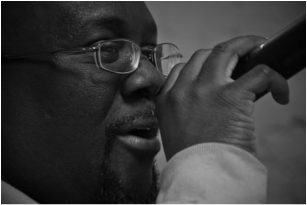 ​Anthony K. Amos' love for music led him to the art of disc jockeying in 1984 while in college at the University of Virginia. He was hooked. So much so that after graduating, he moved to the New York area to study recording engineering at the Institute of Audio Research. He surrounded himself with the music industry by interning at WRKS (98.7 KISS FM) radio station, Arthur Baker's Studio, and Hip Pocket Studios. With the degree and experience he gained in New York, he then took a position as recording engineer at Lion and Fox Recording Studios in Washington DC.
As a DJ, Anthony Amos has been a strong influence in the development of an inspirational and urban gospel market in the DC area that adds a new dimension to hip-hop, R&B, jazz, and go-go. He has lent his DJ skills in venues all across the country, working with artists such as DaTruth,
Riff-Raff
, El Prezidino, and Ason. He has been on stage with Kanye West, Kirk Franklin, Canton Jones, and Lil IRocc; and had the honor of working with ministers like T.D. Jakes, Bishop Eddie Long, and Pastor Jamal Bryant.
A visionary leader with a heart for change, Anthony Amos founded SKIES THE LIMIT Entertainment in 1999 as a way to use his love of music and other art forms to provoke positive change in communities. While continuing to DJ, he created an inspirational music video show called Exodus Videos which was aired on the cable access channel in Charlottesville, Virginia for 9 years. The show aimed to creatively provide uplifting, relevant and educational messages based on Biblical principles through music and commentary. A multi-talented artist, Anthony has also provided videography work in Charlottesville for the University of Virginia's Department of Athletics, First Baptist Church - Main Street in Charlottesville, Foxfield Races, and Shergold Studios.
As an artist-in-residence for Albemarle County public schools, Anthony Amos provided special presentations to youth that linked hip hop and other art forms to academic studies or character development lessons. He has also helped to lead numerous workshops focused on building community & awareness across racial lines as a troupe member of Presence Center for Applied Theatre Arts.
Through SKIES THE LIMIT, Anthony Amos utilizes his many talents to encourage people to reach for their highest potential. He is open to all opportunities where he can help people connect and create lasting memories whether it is a church-event, a wedding reception, a corporate event or a conference. His vision for SKIES THE LIMIT is for it to play an important role in inspiring much-needed change in our society. Through partnerships with like-minded artists, businesses, and faith-based institutions, Anthony Amos hopes to offer positive and forward thinking music, video, film, and other art forms that offer messages which bolster self-esteem, remind people of their divine purpose, build awareness about community needs, and inspire people to work for change in the world.